John Uniack
Program Coordinator
John Uniack is Program Coordinator of MADWORKSHOP. He brings to the position over 40 years of experience in architecture, industrial design, and the visual arts.  Early in his career, John was involved in the design and fabrication of prototypes for Pacific Bell, Max Factor and Marantz Electronics. John studied at Art Center College of Design and went on to serve as owner and principal of UNIACK, a commercial photography studio. After ten years as a photographer and business owner, he returned to college to study architecture.  Upon receipt of his Bachelor of Architecture degree from the USC School of Architecture, John joined the firm of A. C. Martin Partners, where he contributed as a planner and urban designer for eighteen years prior to joining MADWORKSHOP. John also teaches a very popular furniture design course at the USC School of Architecture.
Gail Larkin
Facilities Officer
Gail Larkin has been a long time curator of style and a fashion tastemaker. Gail moved to France after completing her studies at the Fashion Institute of Design and Merchandising in San Francisco. She successfully launched several interior design and lifestyle stores in the French Basque Country. Gail then sold her stores and moved back to the US where she became the Buyer for Fred Segal's Santa Monica location and then a personal shopper at Barneys NY. Gail went on to launch a unique styling company called VIP Closet Consultants. Her clients included some of the most fashion forward women in Los Angeles in addition to numerous entertainment entities. Gail has been profiled in C Magazine, the Los Angeles Times, and Angeleno Magazine for her personalized approach to fashion.
Gail eventually moved on from fashion and worked closely with the Founder of Boxfli, a unique retail concept, to launch and operate the store's flagship location. Gail's passion for entrepreneurship has led her to her most recent endeavor, designing vintage pillows through her Lark Design brand.
Gail is currently an Estate Manager for Cielo and manages the Martin Project.
MADWORKSHOP | USC School of Architecture
2014
The Martin's funding allowed for a group of students, under the mentorship of R. Scott Mitchell, to form a studio class and answer this real-world client request. Students eagerly began work on a design proposal that explored different methods to achieve the desired result. The final design used a layered branching strategy, adopted from site-specific trees.
+
January 18, 2015
MADWORKSHOP x USC School of Architecture, 2014
Martin Architecture and Design Workshop (MADWORKSHOP) supported robotics research at the USC School of Architecture for the 2014-15 school year. Through a generous $50,000 sponsorship from MADWORKSHOP, these research seminars will investigate and develop new techniques in architectural fabrication utilizing the school's new six-axis KUKA robotic arms. (continued below)
+
January 16, 2015
Shihyung "Bobby" Kim
MADWORKSHOP Fellow, 2014
Kim's smart table lamp combines the best of today's technology while maintaining a simple "human-friendly" design. Kim sought to fulfill some basic objectives, like creating a lamp with ease of movement and with multi-functions (like a lamp that goes from reading a book to spotlighting a piece of art). He also wanted to explore the use of indirect lighting as a design treatment. (continued below)
+
January 16, 2015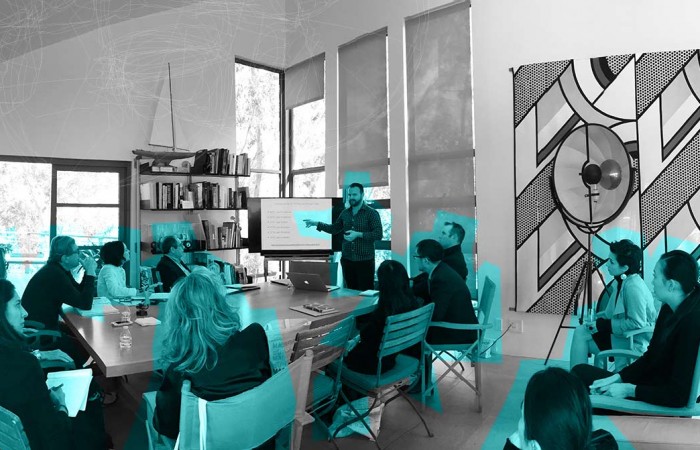 The Inaugural Board Meeting
January 22, 2015
Today marks the inaugural Advisory Board Meeting for the MADWORKSHOP Foundation. All board members were in attendance to officially begin the 2015 calendar year. The agenda consisted of discussing the parameters of the 501c3 regulations, financial reporting, and a review of upcoming projects. The meeting concluded with a detailed discussion on the direction the foundation will take in the first half of 2015. The next full Advisory Board Meeting is set for the summer.