Light and Matter Studio
MADWORKSHOP sponsored architect, researcher, and, professor, Riccardo Blumer on his latest research project that will capture ephemeral light at six Italian chapels and materialize them in 3D printed installations.
Designers:

Riccardo Blumer
2017 Fellow

MADWORKSHOP x Villa Panza

Project Type:
The Fondo Ambiente Italiano (FAI) and MADWORKSHOP have launched a project at Villa Panza, entitled Light and Matter, centered around Architecture, Design, Innovation and Research. Riccardo Blumer, in collaboration with the Mendrisio Academy, will work with students to study the dynamics of light and its materialization, a topic closely tied to the identity of the Villa and its collection. In order to develop this study, it will be necessary to examine several exceptional archetypes, such as the chapels of the Sacro Monte ("Sacred Mountain") in the town of Varese, to 3D print the quality of light as it is reflected and refracted by the structure. The directors of the Villa Panza, who will organize workshops and presentations of the developments and findings of the study, will be involved in the coordination of the project. The results of the project will be presented at the Villa Panza with specific workshops that will enrich the programming of the institution. The workshops will be open to students and the academic world, and will hopefully have the opportunity to be shown in Los Angeles, and locations beyond, once the exhibition in Italy is complete.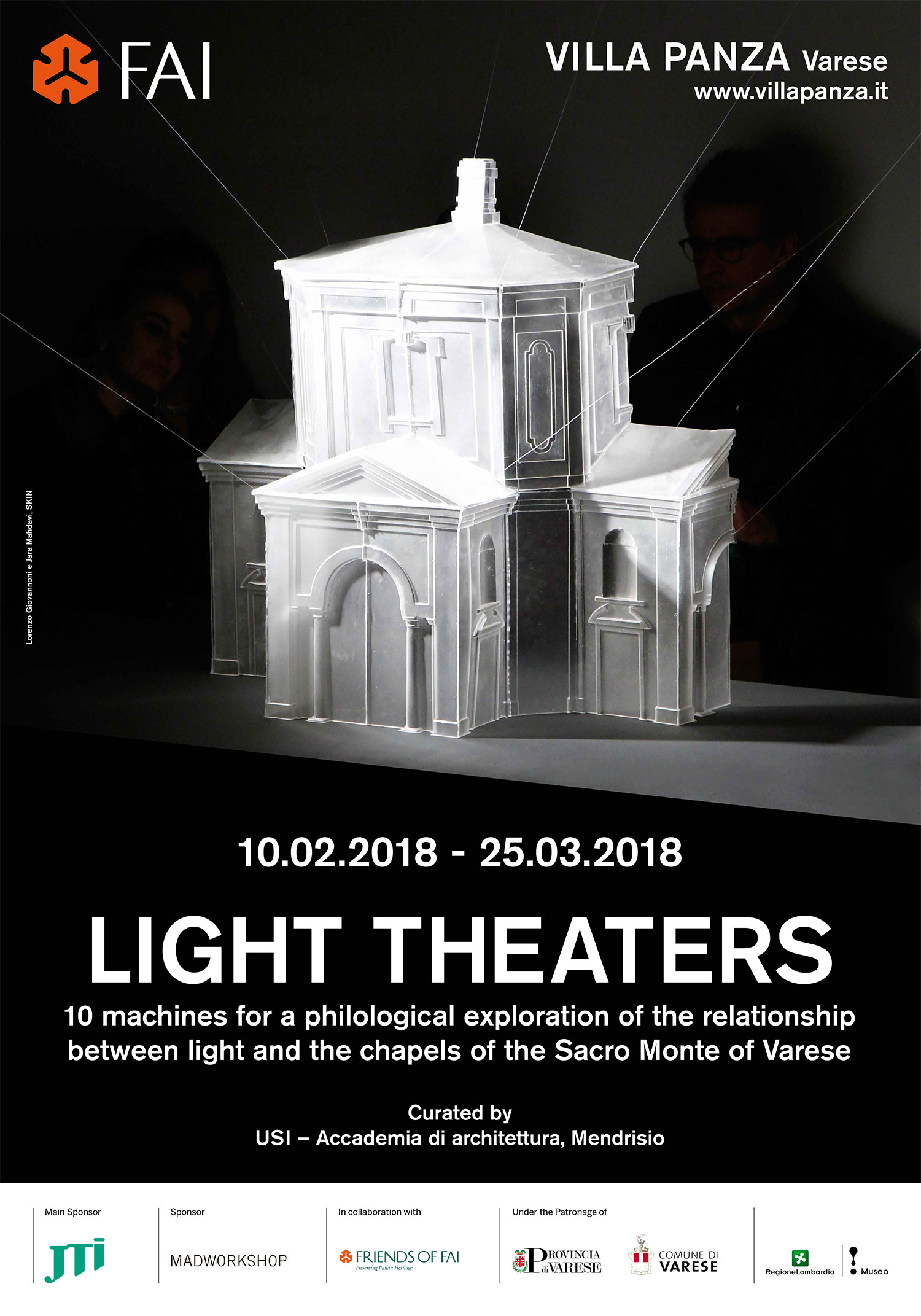 Riccardo Blumer teamed up with MADWORKSHOP, students from the Accademia di Architettura di Mendrisio and Fondo Ambiente Italiano (FAI) in new exhibition 10 February 2018—25 March 2018.
Light carves out the world around us. It separates night from day, and its particles are always in motion. Recognizing these peculiarly architectural qualities of light, MADWORKSHOP, the Accademia di Architettura di Mendrisio and FAI – Fondo Ambiente Italiano (the National Trust for Italy) are launching Light Theaters, a new exhibition opening at Villa Panza in Varese, Italy on 10 February 2018.
Director of the Accademia di Architettura di Mendrisio, Riccardo Blumer has spent the last six months working closely with the Academy's students, studying the dynamics of light in space. This exploration is now culminating in an exhibition of ten elaborate new pieces that intrigue the eye and play with perception, illuminating and refracting the ocular experience. Inspired by everything from VR and sci-fi to the luminescent grandeur of high baroque, these visually stimulating installations are unified in their use of artificial light as a sculptural medium.
The exhibition was also inspired by the nearby Sacro Monte di Varese complex, recognized as a World Heritage Site by UNESCO. Several of the artworks also consider the history and scenography of this historic place, tracing ancient lines of pilgrimage through the surrounding mountains with light beams and immersive experiences.